Innovative Techniques for Creating High End Floors
Lamba Techno Flooring Solutions is a name that has become synonymous with quality flooring solutions Delivering Faster-Flatter-Floors for Future! LTFSPL has developed a few special tools and techniques; it is essentially a question of attitude and commitment. Our company ensures that the project is planned well, managed effectively, resourced correctly and that workers are properly trained and supervised. This results in the production of an exceptionally flat slab in areas for Defined Movement (DM-2) and for Free Movement FM2 as per TR-34.
At LTFSPL high tolerance SFRC (Steel Fibre Reinforced Concrete)/ RCC floors are being constructed by us using cutting edge technology of laying floors with Laser Screed (Large line laser screed with a telescope boom of 6.1 M – Model S15 R & copperhead – small line Laser Screed machine) which does not require guide rails to screed concrete, it eliminates the need of having form work at regular intervals except at day joint thus making wide bay construction of pore size 300 to 2000 m2. This reduces construction joints by 80% which is the weakest section of a floor.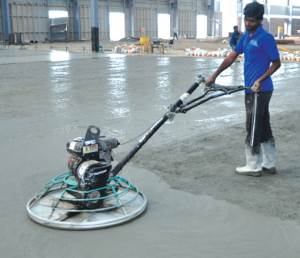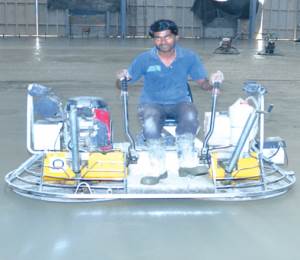 The load transfer across the joints are done by using Plate (Diamond/Rectangular) Dowels and Armoured joints (for edge Protection) Imported Power float equipment like walk behind and Ride-on Trowel are used for finishing, concrete surface. And carry out flatness to tolerances of FM 2 Floor as per TR 34 (UK , Technical Report Guidelines) by using bump-cutter and check rod etc. All this helps to achieve best possible flatness and has no chance of error right from the beginning to the end of job. For floor surveying Automatic Robotic instrument (FloorPro – Digital Profileograph) is used.
Floor Level & Flatness Survey Report is submitted to ascertain whether the floor meets the requirements of International Standards of TR-34 and is used to ensure to our clients that we walk the talk. With experience of laying more than 1 Million m2 of floor in last 4 years, we are here to deliver floors as per International standards. So when plan your next project you think of us as reliable business partner and not just another vendor.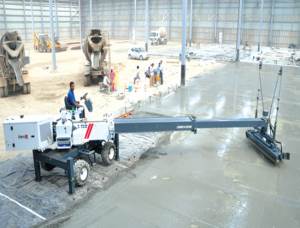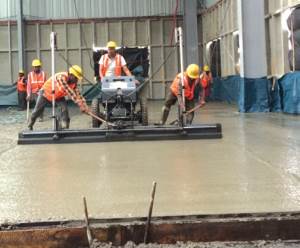 … Delivering Faster – Flatter – Floors for Future!