Maintenance
Floor Joints & Surface Maintenance during Operations
We at LTFSPL at the initial stage plan the joint layout, considering performance of the slab throughout the life of the floor, and set out the expected number, location and performance of the joints. The performance factors considered include joint width, levelness across joints and the stability of joint edges and joint sealants.
Joints and sealants typically require most attention in any maintenance plan. The edges of construction joints have poor strength against impact and wear. Armoured joint is used to protecting the edges. Or alternately joint filling is done with sealants with right Shore A hardness to supports the joint arris while allowing for movement.
In the early stages, the amount of shrinkage is small, but shrinkage will continue for many months. For this reason, sealing should be left as late in the construction process as possible, and ideally just before building handover.
Joint Sealant:
Initially for accommodating high movement soft PU based sealants typically with Shore A hardness above 35, Elongation at break > 600% & Recoverability > 80% is used which only provide limited joint arris support. This is considered as temporary sealant protection in traffic movement areas and should be replaced later with a harder sealant that will provide support for the joint arris. After about 8-10 months or a year, the soft sealants which got deboned in due course, is replaced with epoxy based sealants typically have a higher Shore A hardness in the range 80-100.
Please note that any sealant (polysulphide or PU) with shore hardness A in range of 15-25 is not suitable for initial joint filling of an Industrial & warehouse floors which is under traffic movement.
Note: The bottom surface of the sealant is isolated from the concrete by using closed-cell polyethylene foam (backer rod). This allows the joint movement to occur over the entire width of the sealant. The joint is sealed flush with the concrete surface to eliminate stepping.
ARMOURING OF JOINTS (During construction of floor)
The arrises at formed construction joints can be protected by steel armouring, as shown below. The system ensures adequate load transfer in expansion, contraction and construction joints and eliminates resistance to joint opening and movement in both horizontal plane directions. The system also provides extremely durable edge protection to the concrete slabs, particularly when subjected to traffic.
The load transfer is achieved by high strength steel plate dowels which are combined with rigid release sleeves to allow free slab movements in both longitudinal and perpendicular directions, eliminating the principle cause of shrinkage cracks. The Armoured Joint system also acts as self-contained leave-in-place formwork requiring no stripping after pouring saving significant time and manpower. Using this system means faster and easier floor slab construction, better quality floors and maintenance free joints. They can be used in ground-supported  or suspended slabs starting from 100 mm slab thickness.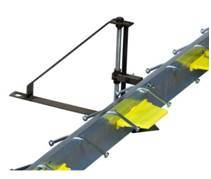 (Imported –ITALY made armour joints are always in stock with Lamba Techno Flooring Solutions Pvt Limited)
**BOQ specifications to be submitted on request.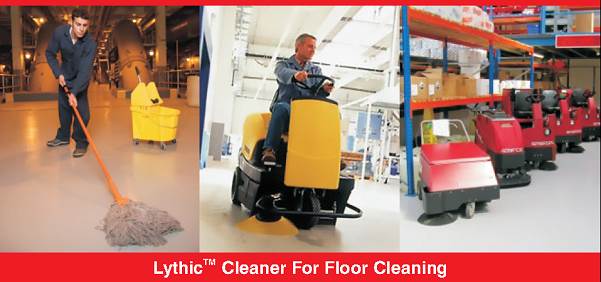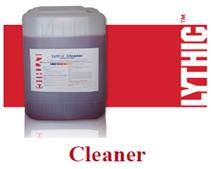 SOLUTIONS™ Colloidal Silica Nano Technology
WHAT IS COLLOIDAL SILICA?
Reactive Colloidal Silica –Reactive Colloidal Silica is 99.5% pure nano-sized silica particles suspended in an ultra-low surface tension liquid
(A "colloid" is a suspension of solid particles in a liquid; the solids are not dissolved, but they do not sink to the bottom and separate, either, due to a special process.)
These Nano Sized Silica Particles, in there low-viscosity suspension penetrate quickly, deeply, and cleanly into concrete.
React very efficiently with lime in concrete.
These reactions form cementitious compounds in the concrete's pores that harden and densify the surface with less wait and less waste.
Product Descriptin
Lythic Cleaner (manufactured in USA) is a non-corrosive cleaner, formulated to remove surface dirt and soil from concrete floor surfaces. It fortifies concrete surfaces with reactive silica as it cleans to increase durability and maintain surface polish.
Adds Reactive Colloidal Silica to the surface as it cleans which bonds to concrete naturally, so every cleaning improves resistance to abrasion and liquid penetration.
Direction for use
Cleaning
If the main goals of the cleaning program are achieved, your floor should last for the life of the building.
Sweeping or dry mopping a floor will remove abrasives such as dirt and debris. Always sweep before using your auto scrubber to scrub the floor.
Auto scrubber
Dilute Lythic Cleaner with water in your auto scrubber.

Dilute the Cleaner 4oz (1:32) per gallon of water. In an auto scrubber this should achieve about 1000ft2 per gallon of water.
Dilute stronger up to 8oz (1:16) per gallon of water for heavy soiled areas
Allow the product to dwell before extraction will increase cleaner efficiency.
Mop cleaning will be effective if done using a separate rinse bucket. The rinse water needs frequent changing.
Application Areas
Industrial & Warehouse Floors
Commercial Floors
Retail Outlets
… Delivering Faster – Flatter – Floors for Future!