North India's First Jointless Floor delivered by LTFSPL
LTFSPL has been at the forefront of construction and renovation of industrial floor technology. An ideal floor would be perfectly flat and level and have no joints.For making Jointless floor we have adopted large area construction method as against conventional long strip casting, by this method large floors up to several thousand square metres in area was laid in a continuous operation. Fixed forms were used only at the edges of the construction at intervals of typically 30 X 24 m. Concrete was discharged into the floor area and spread by laser Screed machines. Levels were controlled both manually using a target staff in conjunction with a laser level transmitter and by direct control of laser-guided spreading machines constructing free-movement areas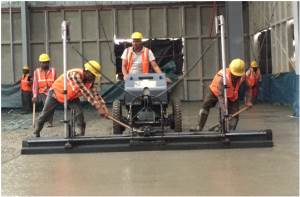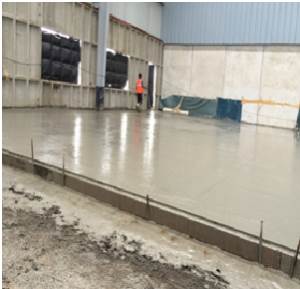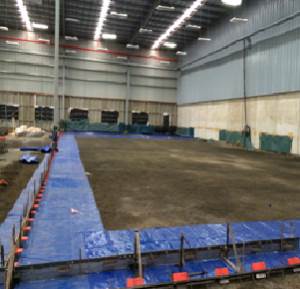 By definition Jointless floors are floors constructed in large panels typically 50 m square without intermediate joints.
The word 'jointless' can be misleading, as there is a practical upper limit to the area of concrete that can be placed in a single continuous operation. No joints are sawn, but steel fibres incorporated into the concrete mix control the width and distribution of cracks caused by shrinkage. A benefit of jointless floors to the building user is the opportunity of having relatively large areas of floor with no joints. Steel fibres were used in concrete to provide structural (load-bearing) capacity and for the control of shrinkage-induced cracking as against conventional Steel bars.
Steel fibres for reinforcing concrete are manufactured from cold-drawn wire and  are used in grade or ground supported floors. Normally the preferred length is 60 mm, with aspect ratios of 80 (ratio of length to nominal diameter). In order to gain pull-out resistance fibres have hooked end profile. Using Glued Steel Fibre Reinforced Concrete (SFRC) helped us with a time saving and providing cost efficient solution to our client. Being Multi dimensional reinforcement it offer following advantages:-
Optimal Load bearing
Optimal Crack control
High fatigue resistance
High impact resistance
Get more out of your slab
Easier to maintain
Longer lifespan
Optimized Thickness
Timesaving construction
Better Performance
The ductile steel fibre floor with stands moderate deformations, minimizes curling of concrete slab.
Easier and more accurate installation.
In 'jointless' slab construction, we used steel fibres at dosages in the order of 30-45 Kg/m3. We have constructed north India's first jointless floors for an area of 9000 m2 and panel size of 30X 24 M for M/s. Knorr Bremse of FM2 category as per international standards of TR-34.

FM2 is a term used in defining high tolerance referring to surface regularity. Surface regularity needs to be limited in two ways. The floor should have an appropriate flatness in order to limit the bumpiness and general stability in operation of the materials handling equipment, and an appropriate levelness to ensure that the building as a whole with all its static and mobile equipment can function satisfactorily. There are essentially two methods for defining floor flatness requirements. Floors are divided into Free Movement Areas (FM) and Defined Movement Areas (DM).
TR34 Classification FM2 is recommended when specifying a new floor as this represents a good quality floor that can be achieved without excessive cost. For VNA applications a DM Specification  (Superflat floor) should be used and the category is defined by the racking height.
We at LTFSPL are proud to deliver Northen India's First Jointless floor for an area of 9000 SQM for M/s. Knorr-Bremse India Pvt. Ltd. at Faridabad, with surface regularity confirming to FM-2 as Per TR34 Classification.
Knorr Bremse India P LTD
Area- 9000 SQM
Floor Specification-
JOINTLESS Floor with 30 m x 24 m Panel size
FM 2 Flat Floor as per TR 34.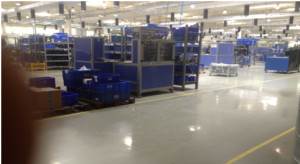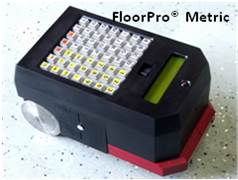 We carried out a survey for Floor Level & Flatness by using Digital Profileograph "FloorPro" to ascertain whether the floor meets the requirements of International Standards of TR-34 & Survey report was submitted to assure our clients that we walk the talk. Lamba Techno Flooring Solutions is a name that has become synonymous with quality flooring solutions Delivering Faster-Flatter-Floors for Future!
LTFSPL  has developed a few special tools and techniques, it is essentially a question of attitude and commitment. Our company ensures that the project is planned well, managed effectively, resourced correctly and that workers are properly trained and supervised. With a full range of hi-tech equipment, experienced and qualified teams of professionals, we are able to provide fine tolerance floor as per international standards including TR-34, DIN 15-185 & ASTM 1155, meeting today's Defined and Free Movement surface regularity requirements. With experience of laying more than 1 Million M2 of floor in last 4 years, we are here to deliver floors as per International standards.  So when plan your next project you think of us as reliable business partner and not just another vendor.
… Delivering Faster – Flatter – Floors for Future!